This past week on the farm, a major crop of weeds sprouted following two days of heavy rain.  Our onions and celery seemed to be engulfed in them overnight.  Last Monday, Chris spent half the day clearing out around the onions and on Wednesday, my parents and our friends, Tina and Donna, helped to save the celery.  These crops in particular have a hard time out-competing their weed neighbors.  They are skinny and tall and don't send out a lot of horizontal leaves that would shade out their competitors, so they require repeated weeding to ensure they receive sufficient light and water instead of their free-ranging weed neighbors.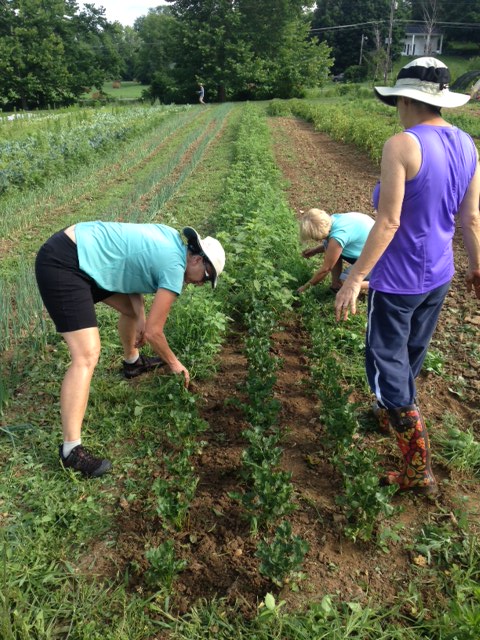 ​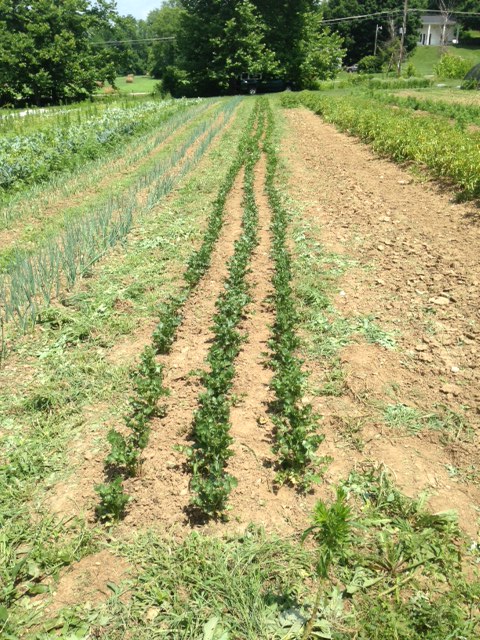 Whenever I think of weeds, I think of a story that my friend, Rachel, told me once.  She had a plot in a community garden in Nashville and spent a lot of time at her plot pulling weeds.  One Sunday, Rachel and her husband were in church and the preacher was talking about weeding as a metaphor for simplifying your life, how plants require water and light and can miss out on those things if they are cluttered by weeds.  Suddenly, Rachel's husband turned to her and said, "Oh, now I get why you spend so much time weeding in the garden!"  He thought she was just doing it to keep the garden looking neat and tidy, not realizing how weeding helps your vegetables get all the light and water they require.  I'm sure it can look like a tedious job to the non-gardener, but weeding is an essential part of keeping your vegetables happy and healthy.
On the other hand, weeds can actually serve a purpose in your garden.  Whenever you have bare soil, weeds are sure to pop up within a few days.  Their seeds are ubiquitous in the environment.  They float in on the air, are carried into or buried in the garden by animals, and are dropped from parent plants around the edges of your garden.  They can live for years in the soil, just waiting for the right conditions to germinate.  You don't have to do anything and they just grow up on their own.  That can be nice sometimes.  Without the root systems of weeds, bare soil will wash away in a strong rainstorm.  The roots of weeds also harbor bacteria, fungus, protozoa, nematodes, and other microorganisms that help to feed the roots of vegetables in your garden.  Weeds can also help keep the soil moist by trapping water between the surface of the soil and their leaves.  I have seen super dry bare soil after a hot week without rain, but if you look under a squash plant with weeds around it, the soil is still moist!
One of my farmer mentors, Bob, didn't like calling them weeds.  Instead, he called them "nature's support" because he saw them as free helpers.  He didn't have to plant them, they just came up on their own, helped keep soil in place, helped keep the soil microorganisms happy, kept the soil moist, and generally added biomass to the garden that would eventually compost down into free soil!  Acknowledging that weeds can sometimes grow faster than vegetables and get the edge on sucking up water and sunlight, he would have us do a little "competition control" and that meant cutting back or mowing down "nature's support" plants so that our vegetables would now be winning in the competition for light and water.  Note that we never "weeded" on Bob's farm.  I really like thinking about weeds in this way.  So often we vilify "weeds" or "pests" when really they are just trying to live like everything else in the garden, and often they do much better than the things we're actually trying to grow.  Now that I'm a farmer, I realize that you must intervene and give your vegetables the edge if you want to be sure you can eat or have vegetables to sell at the end of the day, but that doesn't mean that all weeds or bugs need to be eradicated from the garden.  They can still live there and contribute, just with some checks and balances from the farmer.